This is the place to discuss restaurants that the proprietor of this blog never went to and therefore cannot write about.  Comments about restaurants that are open and operating are discouraged.
Here's a new thread for those of you discussing Woody's.  The other ones are closed for further posting but you can still read what's there.
Skooby's was a small hot dog stand located under a movie theater marquee on Hollywood Boulevard, directly across from Musso-Frank's Grill, a restaurant that will never be on this website. Skooby's served great dogs with a great snap and was kind of a godsend to those of us who like neither the chow nor the lines at Pink's. Skooby's was what Pink's should have been, given its reputation.
The hot dogs were great, especially if you left off enough toppings to be able to taste the meat…though asked once if I preferred Skooby's over my other fave (Carney's, still open), I answered that I preferred the dogs at Carney's and the french fries and lemonade at Skooby's. I also liked the parking better at either Carney's, which may have been the reason Skooby's is no more. I rarely go to anything in that area that doesn't have a parking lot, even for one of the best hot dogs in town.
My second-favorite place to get pizza in Los Angeles abruptly closed the other day, reportedly for good. It was Frankie and Johnnie's, a tiny business about the size of a phone booth located on Little Santa Monica Boulevard in Beverly Hills, just west of Rodeo Drive. Frankie and Johnnie's should not be confused with the Johnnie's New York Pizza chain, though it probably was, often.
Frankie and Johnnie's served very fine pies with very thin crusts and if you bought slices as opposed to a whole pie, they'd reheat them in their big oven and come out much crisper. It was very difficult to walk past the place and not stop in for a slice or two. They also served an amazingly wide range of decent pasta dishes — amazing because the whole kitchen there seemed to be about the size of a Honda Civic. I'm going to miss that place.
You're probably wondering what my favorite place is to get pizza in Los Angeles. Once upon a time, it was Damiano's, featured elsewhere on this site. Now, it's Vito's Pizza on La Cienega, a few blocks south of Santa Monica. It's not fancy but the pizza is made expertly and many friends who obsess on "New York Pizza" and somehow believe one cannot find rotten pizza in Manhattan, swear that Vito's is as close as you can get. It is very good and I really hope I never have to add it to this blog.
This forum has gotten too big so I'm closing it to further postings. Feel free to respond to anything here but do it over on Woody's Smorgasburger V.
Jan's Restaurant was located on Beverly Boulevard just east of La Cienega. It billed itself as "L.A.'s Best Coffee Shop." One wonders how the folks at Astro's over on Fletcher Drive — owned by the same family and featuring almost the exact same cuisine — felt about that. But Jan's was pretty good. In the seventies, I lived a block from the place and was in there at least twice a week. Breakfasts were as good as any other option I had. For lunch and dinner, it wasn't the greatest but it was several notches above Denny's or Norm's or any other big chain you could name.
I especially liked the Spaghetti Burger, which was not as many assumed a hamburger with spaghetti on it. It was a hamburger with a dish of spaghetti on the side.
Jan's was reasonably priced and had good service. It closed in mid-March after more than fifty years in business. We've lost too many of that kind of eatery.
To the surprise of no one who has followed the chain's decline in recent years, the last Koo Koo Roo — the one in Santa Monica — is gone. The Luby's company, which acquired Koo Koo Roo and Fuddrucker's in 2010, has turned the last location into a Fuddrucker's…an ironic finish since the operating premise of Koo Koo Roo, once upon a time, was to offer an alternative the traditional burger and fries fare.
Koo Koo Roo started in Los Angeles in 1988 when two brothers, Ray and Mike Badalian opened their first location and before long, their second. The one I went to was in a little strip mall at the corner of Beverly Boulevard and Orlando Avenue, a few blocks east of La Cienega. Before the mall was built, the land housed a Roy Rogers Roast Beef Sandwich stand and then a Golden Bird Fried Chicken shop. Another Koo Koo Roo was located in Koreatown.
The night of the Academy Awards in 1990, Kenneth Berg, a semi-retired real estate broker, passed by and noticed the long line of customers at the Beverly/Orlando location. He decided to stop in and get a "to go" order to eat while watching the Oscars and he was impressed with what he later described as "…the best chicken I ever had in my life." He soon met the Badalian brothers, invested in their business and later bought them out. He not only liked the chicken but the whole concept of healthy "fast food."
The story of Koo Koo Roo became one of ups and downs. New stores opened. Other stores closed. Berg's staff added an expanded menu that included freshly-carved turkey and he renamed the chain Koo Koo Roo California Kitchens. Later, he purchased a controlling interest in the Arrosto Coffee chain and opened coffee bars within his Koo Koo Roos.
It seemed like every few months, Koo Koo Roo was opening more stores and closing others while experimenting with new menu items. The folks who loved Koo Koo Roo (I was one) really loved it but there never seemed to be enough of them. Eventually, Berg's company sold out to the Fuddrucker's people and though they added their burgers to most outlets, they didn't reverse the company's fortunes…and finally that last one closed.
I miss them. I liked their signature chicken breast. I liked their turkey. I thought their macaroni and cheese was wonderful. But clearly, not everyone liked Koo Koo Roo as much as I did.
Much of this weblog has been joyously devoted to one of my favorite now-defunct places to eat…Woody's Smorgasburger.  Many former employees have chimed in to create a weblogged history of the chain, and the most vocal and interesting has been Phil Ankofski.  Recently, Phil sent me some photos of a diorama he has lovingly built of the Woody's I most often frequented, the one in Culver City.  I'll be posting Phil's photos here along with some other pics he's contributed, and I'm sure he'll be along to offer commentary.  Please join in.  Here's the first pic he sent of his remarkable reconstruction…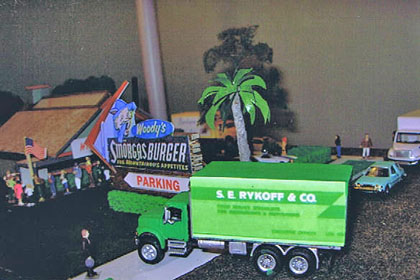 We've had so many messages posted here about the late, luscious Woody's Smorgasburger that we have to break them up.  This is the third thread of comments.  You can read our article about Woody's and the first batch of comments here.  You can read the second batch of comments here.  Please continue the discussion on this thread.
In the eighties, there was a war of competing hamburger chains: Fuddrucker's versus Flakey Jake's.  I liked them both but slightly preferred the latter, particularly the Flakey Jake's on the northwest corner of the intersection of Pico and Sepulveda in West Los Angeles.
The premise of both chains was simple.  They sold pretty good hamburgers, a notch above McDonald's and Burger King at a correspondingly (but not exorbitant) price.  They both had other menu items but you went there for the burgers, which were served on a bun cooked on the premises in their own bakery.  The bakery also made cinnamon buns and other goodies which you could purchase to take home.
One thing I liked about them was the "dress-it-yourself" bar that I first encountered at Woody's Smorgasburger, which has become the major topic of this site.  You got your burger nude and you carried it over to an area where they had ketchup and mustard and onions and lettuce and tomato and cheese sauces and other toppings.  The hamburgers at Flakey Jake's were pretty darned good and I ate at the Pico-Sepulveda one often.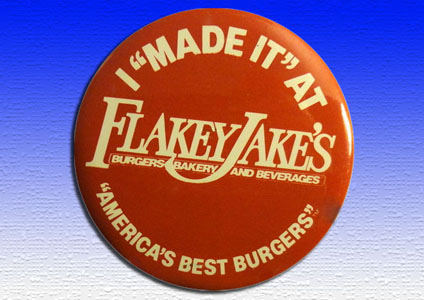 The two chains were in fierce competition to open up new locations across the country — some company-owned, some franchised. In a few cases, they competed head-to-head: There'd be a Flakey Jake's literally across the street from a Fuddrucker's.  Fuddrucker's also sued Flakey Jake's charging "infringement of trade dress" (copying its format) and then Flakey Jake's counter-sued Fuddrucker's charging "restraint of trade" and in '82, they settled out of court on undisclosed terms.
Around this time, Flakey Jake's, which had been founded by a Seattle-based seafood restaurant chain, sold out to Frank Carney (co-founder of Pizza Hut) and a group of investors. Apparently, they couldn't make a go of it. Before long, all the Flakey Jake's closed…or seem to have closed. Fuddrucker's, meanwhile, continues to thrive and currently has around 200 outlets across the U.S. — few of them, I'm afraid, in areas where I travel. I'm curious why one chain succeeded and the other didn't because they were, after all, pretty much the same thing.