Flakey Jake's
In the eighties, there was a war of competing hamburger chains: Fuddrucker's versus Flakey Jake's.  I liked them both but slightly preferred the latter, particularly the Flakey Jake's on the northwest corner of the intersection of Pico and Sepulveda in West Los Angeles.
The premise of both chains was simple.  They sold pretty good hamburgers, a notch above McDonald's and Burger King at a correspondingly (but not exorbitant) price.  They both had other menu items but you went there for the burgers, which were served on a bun cooked on the premises in their own bakery.  The bakery also made cinnamon buns and other goodies which you could purchase to take home.
One thing I liked about them was the "dress-it-yourself" bar that I first encountered at Woody's Smorgasburger, which has become the major topic of this site.  You got your burger nude and you carried it over to an area where they had ketchup and mustard and onions and lettuce and tomato and cheese sauces and other toppings.  The hamburgers at Flakey Jake's were pretty darned good and I ate at the Pico-Sepulveda one often.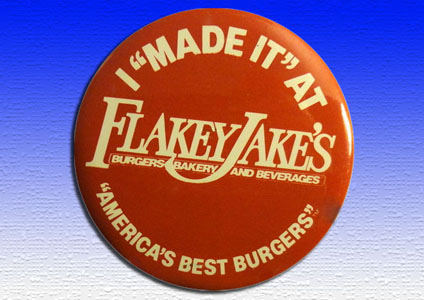 The two chains were in fierce competition to open up new locations across the country — some company-owned, some franchised. In a few cases, they competed head-to-head: There'd be a Flakey Jake's literally across the street from a Fuddrucker's.  Fuddrucker's also sued Flakey Jake's charging "infringement of trade dress" (copying its format) and then Flakey Jake's counter-sued Fuddrucker's charging "restraint of trade" and in '82, they settled out of court on undisclosed terms.
Around this time, Flakey Jake's, which had been founded by a Seattle-based seafood restaurant chain, sold out to Frank Carney (co-founder of Pizza Hut) and a group of investors. Apparently, they couldn't make a go of it. Before long, all the Flakey Jake's closed…or seem to have closed. Fuddrucker's, meanwhile, continues to thrive and currently has around 200 outlets across the U.S. — few of them, I'm afraid, in areas where I travel. I'm curious why one chain succeeded and the other didn't because they were, after all, pretty much the same thing.
73 Responses to Flakey Jake's