Farrell's
In 1963, Bob Farrell opened the first Farrell's Ice Cream Parlour. It was in Portland, Oregon and the premise was simple: Serve tons of ice cream in a raucous party environment. People must have liked the idea because by 1970, there were 58 Farrell's shops and hundreds of imitators. I suspect it was the imitators, with their attempts to out-Farrell's Farrell's, that gave that kind of establishment a less-than-good name.
By the time I went to one, it was a place you and your friends would go not so much to dine as to see who could embarrass themselves the most, consuming mammoth tubs of ice cream. One dish was even called the Pig's Trough. If you finished its twelve scoops, you received a little badge that said, "I made a pig of myself at Farrell's." Such an honor. There were also little songs and skits the staff would do in serving the ice cream. One installment of The Bob Newhart Show memorably parodied these, with Bob being humiliated in public over his order of a single scoop. That episode alone probably scared a lot of people off from visiting a Farrell's. At the very least, it summarized why I never felt too comfy in one.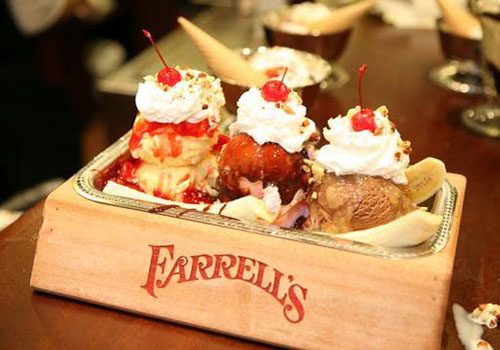 Mr. Farrell sold the chain to the Marriott Corporation in 1971 and worked with them to expand its reach to 130 parlours across the nation. It is said that every one was successful, at least while Mr. Farrell was involved, but then it all went wrong in a hurry. He left the company and soon after, in 1985, it was sold. The new owners decided the concept had run its course (perhaps it had) and began to play down the "make a pig of yourself" theme and turn the chain into facsimiles of Howard Johnson's — family restaurants with a great ice cream capability. By 1990, the chain was almost dead. In '96, a new company acquired the name and trademarks, and has been slowly opening new Farrell's here and there. In this era of more conscious healthy eating, it's probably not the same.
73 Responses to Farrell's