Love's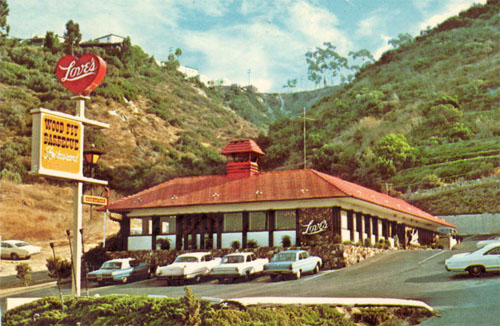 There was a time when Love's Wood Pit Barbecue restaurants dotted the California landscape and seeped into other states, as well. Some folks believe it's impossible to get decent barbecue in a chain. You need a small, one-of-a-kind restaurant in a building that used to be a welding shop and was converted by some guy who's obsessive about good bbq and has been doing it all his life. I've been to some great places that fit that description and also some where the food was close to inedible.
Love's fell somewhere in-between but they were always conveniently located and there are times you need to eat and you can't find one of the "other" kind of bbq joint, or maybe you're just not in the mood to gamble. Love's had decent ribs, great chicken, terrific sandwiches and easily the best beans I've ever had in my life. I used to go to every Love's I ventured near and for a time, I had a running correspondence with a gent who was either the president of the company or very close to that. Each time I ate at a new (to me) Love's, I'd send him a critique. He'd write me back a nice letter and toss in coupons for free meals. A fine relationship.
But I liked Love's for other reasons beyond the coupons. They were friendly and dependable and the food was pretty darned good. So you could often find me at the one on Pico Boulevard near Beverly or at the one on Hollywood Boulevard at Cherokee or at the one in Encino or the one in Pacific Palisades or any other one. I probably went to twenty different Love's including the one Love's Junior they operated (briefly) on Ventura Boulevard in Van Nuys. It was an attempt to repackage their cuisine into something that functioned like a fast food outlet. Had that experiment succeeded, I assume we'd have seen them in locations too small to handle a full-sized Love's or in food courts.
Alas, over the years the chain just lost business and got smaller. The one on Pico, which had once been a kind of "flagship" Love's and was used as a model and training facility for others, turned mysteriously one day into a place called Noonan's. Noonan's was the name of the company that supplied uncooked ribs to many L.A. restaurants and they went into business in some kind of partnership with Bob Morris, who had founded R.J.'s for Ribs, Gladstone's and other popular Los Angeles restaurants. (Morris now operates the Paradise Cove Beach Cafe in Malibu, which is not covered on this site because it's open and thriving.) Then it became Bob Morris' Beverly Hills Cafe even though it wasn't really in Beverly Hills…and it may have changed names one or two more times before closing down. The building is now the office of a limousine company. The Love's on Hollywood Boulevard changed identities at least ten times and is now a restaurant called the Geisha House.
There were some changes of ownership and some lawsuits in the Love's operation. A lot of them closed and the ones that didn't changed names. The Love's in Brea, for instance, changed its name to Riley's and went on serving the exact same menu for years. The one in Chula Vista renamed itself The Great Rib Restaurant, which was a subtitle that Love's sometimes used in its advertising and on its signs. Eventually, all such after-life Love's closed. According to the company website, there's still a Love's in Jakarta, Indonesia but I'm skeptical that's so. If it exists, it's the only one.
Folks who loved Love's still love it…and miss it. If you do some Googling, you'll find a number of different recipes that purport to be the secret to replicating Love's Beans and others that teach you how to make the sauce. Since the recipes differ, some or all of these are obviously wrong. I haven't tried making any of them but the recipes for beans (which is sometimes attributed to the L.A. Times) strike me as dead wrong. Some of the sauce recipes seem credible, especially this one…
2 cups cider vinegar
3 1/2 cups brown sugar
2 tablespoons salt
2 tablespoons onion powder
2 tablespoons garlic powder
2 tablespoons celery seed
1 tablespoon black pepper
1 tablespoon paprika
2 tablespoons lard
1/4 cup pickling spices

Place lard (not shortening) in a pot. Add sugar and then other ingredients. Cook over a low flame stirring occasionally until sauce reaches the desired consistency.
As I said, I never made this but it sounds like it might be the secret. And the reason I've never made it is that every three or four years, I order another case of the genuine article from the Love's website. I have no idea why they're still bottling this stuff if there are no restaurants to sell it in. Maybe there is one in Jakarta and it's thriving. Anyway, it's been more than two years since I ordered any of it. I don't guarantee that the site is still active but you can inquire there if you long to get some. As you might imagine from all that brown sugar, Love's sauce was very sweet but it was awfully good.